KINEMA
Here you can download the KINEMA flyer for the 35th Braunschweig International Film Festival.
-----
In the competition for the Franco-German Youth Award KINEMA, a jury of six young French and Germans between the ages of 16 and 23 will select a winner from among six debut films.
The prize is endowed with 2,500 euros and aims to:
to facilitate the dialogue between young German and French adults interested in film in the special context of a festival,
to promote mutual interest in each other's film culture,
to support young directors from both countries and to involve them in the dialogue between young Germans and French; and
to draw public attention to the German-French exchange between Lower Saxony and Haute-Normandie.
The name KINEMA (a made-up word from cinéma and the German word for cinema "Kino") is inspired by the film educational exchange between the state of Lower Saxony and the Normandy region.
The competition is supported by the State of Lower Saxony, the Franco-German Youth Office, Antenne Métropole, the Normandy Region, the Film Foundation Pôle Image Haute-Normandie and the Académie de Rouen.
Previous award winners: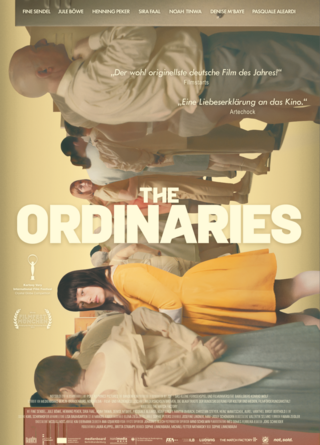 Germany 2022, 120 min, colour, Director: Sophie Linnenbaum
A fictional film world divided into main characters, supporting characters and outtakes: Here Paula has to prove that she has what it takes to be a main character. She wants a glamorous life with her own storyline - not like her mother, who works as a supporting character in the background. Along the way, Paula encounters contradictions and finds herself on the social fringe - and begins to doubt the story ... THE ORDINARIES is a film about being in the movies: Lavishly shot, narratively and visually bursting with ideas across film history: from special effects to the musical number choreography to the score, which was recorded by the German Film Orchestra Babelsberg. The film was shot in Hanover, among other places. One of the leading roles - Dr. Cooper - is played by Hanover-based actress Denise M'Baye.

Biography Director: Sophie Linnenbaum (*1986) first realised numerous theatre productions. THE ORDINARIES is her graduation film at the HFF Konrad Wolf. It received the New German Cinema Award, Best Director and Best Production at the Munich Film Festival.
JURY STATEMENT
THE ORDINARIES by Sophie Linnenbaum is set in a world ruled by film, where everyone has to stick to their role and storyline. This leads to discrimination and suppression of the so-called "outtakes". Paula, the daughter of a supporting and a leading role, is in search of the father she never knew. The audience follows her attempt to become the main character herself and change her fate. The plot immerses us in a new world full of creativity and humour that captivates us from beginning to end. The fact that Paula is the same age as us makes it easy for us to bond with her. The music, which influences the characters' emotions and our own throughout the film, harmonises with the flowing camera work. The close-ups of the characters are used to enhance these emotions, which are also perfectly conveyed through the acting. The different classes in this society are also skilfully characterised by the set design, colours and contrasts. Sophie Linnenbaum thus addresses discrimination and censorship in a controlled society and shows us that it is possible to escape this system with courage, determination and passion.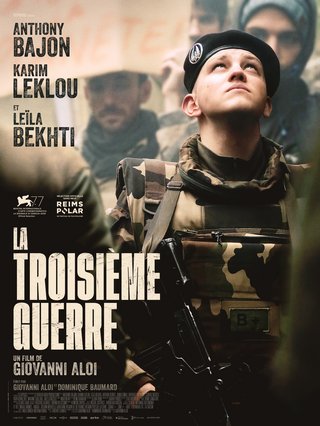 German premiere, France 2020, 92 min, color
In 2015, France was shaken by inconceivable terrorist attacks. President Hollande called for a "war on terror". Since then, soldiers of the Opération Sentinelle have been patrolling the entire country. The film tells the story of a heavily armed young task force in Paris. They look at their city through military eyes: everyday things are suspicious. Crowds of people offer opportunities for attacks, bags or cars are booby traps and snipers hide behind windows. Paris is a theater of war. Thanks to extensive research, the film offers an exciting, oppressive view of the young people involved in this war.
Biography Director:Italian born in 1984, who lives and works in France. Studied film in Bologna and visual arts in Paris. Numerous works as screenwriter, editor, producer and director for television, in documentary, short films and music videos.
JURY-STATEMENT
THE THIRD WAR by Giovanni Aloi takes place after the 2015 attacks in Paris.
The film tells about the everyday life of an 18-year-old soldier and the members of his task force. Coming from a working class background, the young man tries to integrate into society and make a positive impact on the world. He faces the harsh reality of everyday military life and the constant tension that tests his psyche.
The cleverly written screenplay keeps the audience spellbound until the end. The gray color scheme, many close-ups, flowing camera movements and the intense sound design make it possible to experience the soldiers' emotional state up close.
We were also impressed by the authentic acting, especially the precise facial expressions and gestures.
Giovanni Aloi shows the soldiers' point of view, which was new for us and which allowed us to better understand the difficulties of this profession and to open our eyes to this invisible war.
2020: LES ÉBLOUIS (The Dazzled)
France 2019, 89 min, color
Language: French
Subtitles: English, German

Direction: Sarah Suco
Script: Sarah Suco, Nicolas Silho
Camera: Yves Angelo
Schnitt: Catherine Schwartz
Cut: Laurent Perez del Mar
Sound: Cyril Moisson, Guillaume d'Ham, Hervé Buirette
With: Camille Cottin, Jean-Pierre Darroussin, Eric Caravaca
Production: Dominique Besnehard, Michel Feller, Frédéric Brillion
Production Company: Mon Voisin Productions, Épithète Films
Rental: Pyramide International

The jury's statement:
"This feature film is characterized by a sincere, intimate script and hidden violence. What happens in this community may seem fraternal and gentle at first. Gradually, however, the viewer realizes that this benevolent community is only an illusion. Through Camille's vision, the unbearable climate of this community is felt with full force. The way the teenager experiences this oppression together with her siblings makes this story all the more poignant and touching.

This drama is carried by the fine interpretation of the actors, especially the young actress Céleste Brunnquell. The settings and costumes reinforce this intense effect. The director shows great courage by presenting a powerful, moving, simply authentic first film from an autobiographical point of view and with oppressive realism.

Honorable mention for KIDS RUN:
Another film that appealed to us and was heavily discussed is "Kids Run", which is why we give it an honorable mention. This debut film by Barbara Ott succeeds in expressively showing how a loving, sometimes aggressive father stops at nothing to improve the lives of his children and escape from hopeless situations."

The jury formed
Tristan Karock from Hameln,
Elsa Wilts from Hannover as well as
Jade Ntsiegori and
Thomas Tahaghoghi Vatani from Franqueville-Saint-Pierre (Normandie)
under the expert advice of director​​​​​​​ Gordian Maugg.

The other films in the KINEMA competition were "Mein Schatten über mir" driected by Victor Gütay, "Slalom" driected by Charlène Favier, "Back Home" driected by Jessica Palud as well as "Albträumer" driected by Marcus Lenz.

The award is supported by the Land Niedersachsen, from the Académie de Rouen in the Normandy, from lower saxony Schulkinoprojekt Kinema e.V. and the Antenne Métropole the metropolitan region of Hannover Braunschweig Göttingen Wolfsburg.
2019: MEIN ENDE. DEIN ANFANG.
Germany 2019
Language: German
Subtitles: English
Directed by: Mariko Minoguchi
Script: Mariko Minoguchi
Camera: Julian Krubasik
Cut: Andreas Menn
With: Saskia Rosendahl, Julius Feldmeier, Edin Hasanovic
Production: Trini Götze, David Armati Lechner, Thomas Wöbke
Production Company: Trimafilm GmbH
Rental: 24 Bilder
111 Min, color, DCP
The jury's reasoning:
The film MEIN ENDE. DEIN ANFANG by Mariko Minoguchi tells the story of the protagonist Nora, who experiences a severe blow of fate that disrupts her usual everyday life.
After the death of her boyfriend, Nora tries to rebuild herself and give her life a new meaning. At the same time, Natan's world collapses when he finds out that the most important person to him, his four-year-old daughter, is seriously ill; however, he does not have the financial means to save her. The two stories of the main protagonists intertwine in unexpected ways.
What is special is the cycle that closes again and again, the parts of which only come together in the viewer's mind. The diversity of the characters allows everyone to identify individually with the plot. The spectator is taken over by an emotional tension all the time, in which death, pain, frustration, hope and humor play together. The acting quality immediately places the audience at the center of the action. The interplay of music, light and color creates an impressive, intense atmosphere.
Mariko Minoguchi directorial work changes the usual view of grief, inspires self-reflection and gives hope in humanity.
Jury members 2018
Josie Barth, 16 years old, student in Braunschweig (Lower Saxony)
Léa Bouabdallah, 16 years old, student in Le Havre (Normandy)
Marlitt Evers, 16, schoolgirl in Braunschweig (Lower Saxony)
Eugénie Guest, 17 years old, student in Pont-Audemer (Normandy)
Leo Könneke, 16 years old, student in Braunschweig (Lower Saxony)
Tom Louis, 16 years old, student in Gaillon (Normandy)
The jury's reasoning:
In the film BLUE MY MIND, director Lisa Brühlmann lets the viewer experience the theme of self-discovery in a new, extraordinary way.
The 15-year-old protagonist Mia has difficulties settling in after her move. In her changing world she tries to find her place, doubts about her origins and her new friends arise. As her body changes, she asks herself many questions about her identity and finds refuge in drugs and sex. She feels different and understands very quickly that she is going through something extraordinary.
The director creates an intense relationship of the audience to Mia's life through person-centered camerawork and the viewer finds themselves in an emotional dichotomy about Mia's personality. BLUE MY MIND offers metaphorical interpretations and becomes an artful experience. The color scheme is subject to a constant reference to water and cold as a guide through the film experience. Provocative scenes and actions create a distance from the main character, yet everyone finds themselves personally in Mia. A great soundtrack and excellent acting round out the work.
Lisa Brühlmann's film stimulates reflection and has a lasting effect on our thoughts and feelings.
[Belgium / Netherlands / Denmark 2016, 110 min., German premiere
Language: French, subtitles: German
Directed by: Nathalie Teirlinck
Camera: Frank van den Eeden
Script: Nathalie Teirlinck
Cut: Morten Egholm, Frederik Strunk, Molly Stensgaard
Actors: Evelyne Brochu, Zuri François, Eriq Ebouaney
Production: Xavier Rombaut, Bart Van Langendonck
Music: John Parish
Sound: Michel Schöpping
Rental: Savage Film
The reasoning of the jury
With a sad and very special mood, PAST IMPERFECT conveys how our past shapes us and yet how present is still with each of us. Nathalie Teirlinck creates an extraordinary film with the story of her protagonist Alice, which shows a special relationship between mother and child. Through her profession as an escort, Alice is used to hiding her true feelings. Now, when her 6-year-old son Robin enters her life, she is completely overwhelmed by the situation as he confronts her with her own past. Not only through the use of cool lighting and many scenes at night, but also through the appropriate music, the feeling of loneliness and helplessness is awakened in the viewer.
PAST IMPERFECT doesn't need a lot of dialogue to authentically portray the difficult, yet touching, story. The very fluid transitions and the many close-ups evoke an intense and intimate connection between the characters and the viewer. Last but not least, Robin, who is often left alone, visualizes the loneliness also embodied by the anonymity of the big city. Nathalie Teirlinck creates space for interpretation right from the start, drawing one under the spell of an important and great film.
Jury members
Lise Quenet, 16 years old, student in Le Havre (Normandy)
Thibault Gauthier, 17 years old, student in Le Havre (Normandy)
Juliette Bechadergue, 17 years old, student in Évreux (Normandy)
Natalija Pavlic, 16 years old, student in Braunschweig (Lower Saxony)
Lilli Klementz, 16 years old, student in Braunschweig (Lower Saxony)
Clara Neumann, 17 years old, student in Braunschweig (Lower Saxony)
France 2016, 80 Min., German Premiere
Language: French, Subtitles: German
Directed by: Morgan Simon
Camera: Julien Poupard
Script: Morgan Simon
Cut: Marie Loustalot
Actors: Kévin Azaïs, Monia Chokri, Nathan Willcocks
Production: Jean-Christophe Reymond, Amaury Ovise
Music: Selim Aymard, Julien Krug
Sound: Mathieu Villien
Rental: Versatile
The reasoning of the jury
A simple but complex script, in which not much is said, but everything is shown. Morgan Simon adapts the Oedipus complex in a modern way, illustrating the conflict and love between father and son, on every conceivable level. Compte tes Blessures shows the protagonist's constant confrontation with the real world, as well as a generational conflict with the son's social milieu and the father's as disputants. The cinematography, which captures the energy of the story, and the powerful music, which gives vent to the emotions and anger, act sublimely over the breathtaking trio of actors. Both bring about a catharsis that leaves the viewer with a pleasurable feeling, leaving the auditorium exhilarated.
The film shows that Morgan Simon is a great hope for the French and European cinema of tomorrow.
Jury members
Élize Fraisse, 17 years old, student in Le Havre (Normandy)
Victor Gütay, 16 years old, student in Gifhorn (Lower Saxony)
Camille Sineux, student in Évreux (Normandy)
Evo Tammena, 17 years old, student in Leer (Lower Saxony)
Victor Touzé, 17 years old, student in Bernay (Normandy)
France 2014, 86 Min., German Premiere
Language: French, Subtitles: German
Directed by: Frédéric Nicolas
Camera: Sébastien Buchmann
Script: Frédéric Nicolas, François Bégaudeau
Actors: Camélia Pand'or, Jisca Kalvanda, Adam Hegazy
Cut: Mike Fromentin, Gilda Fine
Music: Simon Neel, Camélia Pand'Or
Production: Elisabeth Perez
Sound: Jean-Michel Tresallet, Pierre Bariaud, Samuel Aïchoun
Rental: Alpha Violet
to the Trailer
The reasoning of the jury
n his film "Max & Lenny", Fred Nicolas shows the emergence of an intimate friendship between two girls from Marseille, which offers them new perspectives. In an effort to approximate reality as closely as possible, Nicolas' actors, themselves from Marseille, are almost entirely amateurs. Through atmospheric shots, the director immerses us in the heart of the city: Here, living conditions are far from ideal, especially in the disadvantaged neighborhoods. In its dichotomy of sea and high-rise housing estate, freewheeling and imprisonment, the city itself becomes the bearer of meaning. Likewise, the film's score takes on a crucial role: written by the lead actress herself, Camélia Pand'or, accusatory rap clarifies Lenny's only means of expressing her rebellion against systematic injustice. Fred Nicolas has created a realistic film whose ending leaves room for hope.
Jury members
Léa Delferriere, 17 years old, student in Le Havre (Haute-Normandy)
Maud Falaise, 16 years old, student in Yvetot (Haute-Normandy)
Laura Klegräfe, 16 years old, student in Hannover (Lower Saxony)
Matis Moisson, 16 years old, student in Yvetot (Haute-Normandy)
Maren Petrich, 17 years old, student in Göttingen (Lower Saxony)
Ann-Kristin Tlusty, 21 years old, student in Hildesheim (Lower Saxony)
2014: WIR SIND JUNG. WIR SIND STARK.
Germany 2013/2014, 112 Min.
Directed by: Burhan Qurbani
Script: Burhan Qurbani, Martin Behnke;
Camera: Yoshi Heimrath;
Cut: Julia Karg;
Music: Matthias Sayer
Sound: Stephan von Hase, Kai Lüde, Rainer Gerlach
Actorsr: Devid Striesow, Thorsten Merten, Saskia Rosendahl, Jonas Nay, Joel Basman, Trang Le Hong
Production: TeamWorx Television & Film
Rental: Zorro Film
to the Trailer
The reasoning of the jury
"WE ARE YOUNG. WIR SIND STARK" by Burhan Qurbani shows us in shocking and unsparing images the xenophobic attacks on a home for asylum seekers in Rostock-Lichtenhagen in 1992. The round trips of the camera let us dive into the vicious circle of violence and a history that repeats itself and affects all generations and all social classes. As viewers, we are literally overwhelmed by the brutality of the events. The transition from black and white to color added to the impression of injustice and made us think about the topicality of the issue in France, Germany and throughout Europe. With this film, the director has awakened our attention and made us aware of our role in society. We do not have the right to remain passive, we must face our responsibility.
Jury members
Katja Friedewald, 20 years old, student in Göttingen (Lower Saxony)
Charlotte Lordet, 16 years old, student in Évreux (Haute-Normandy)
Romane Rossettini, 17 years old, student in Yvetot (Haute-Normandy)
Laurine Sauvage. 16 years old, student in Yvetot (Haute-Normandy)
Bente Schill, 21 years old, student in Göttingen (Lower Saxony)
Marta Tomé, 19 years old, student in Braunschweig (Lower Saxony)
[Translate to Englisch:] 2013: SUZANNE
[Translate to Englisch:] Frankreich 2013
Regie: Katell Quillévéré
Buch: Katell Quillévéré, Mariette Désert
Kamera: Tom Harari
Schnitt: Thomas Marchand
Musik: Verity Susman
Darsteller: Sara Forestier, François Damien, Adèle Haenel
Produktion: Move Movie
Verleih: Arsenal
94 Min., DCP, Farbe, OmdU
Begründung der Jury
Der Film führt uns in die Provence nach Südfrankreich. Doch vom pitoresken Charme der Region ist im ganzen Film nichts zu sehen, denn die Geschichte spielt sich in den grauen Außenbezirken der Kleinstadt Arles und den Banlieues Marseilles ab. Es wird über zwei Jahrzehnte die Geschichte zweier Schwestern erzählt, die in früher Kindheit ihre Mutter verloren und trotz aller Widrigkeiten, die ihr Leben prägen, eine enge Beziehung pflegen, die stark von der Hilfe und Unterstützung des Vaters abhängt. Das authentische Spiel der Darsteller sowie die lebensnahen Aufnahmen versetzen den Zuschauer in ein scheinbares Abbild der Realität. Eine Realität, die von Härte geprägt ist, ohne dabei jemals brutal zu werden. Dabei ist der Film nie vorhersehbar und hält immer wieder unerwartete Wendungen bereit, die durch wiederkehrende musikalische Themen untermalt werden. Wir sehen eine Geschichte des Lebens, in der eine Familie trotz zahlreicher Brüche am Ende wieder zu sich selbst findet — In ihrer Mitte eine Hauptfigur, die ihr Leben kompromisslos angeht: Suzanne.
Jury-Mitglieder
Amalric Lombard de Buffières (17 Jahre) Schüler in Verneuil sur Havre (Haute-Normandie)
Camille Grossmann (17 Jahre) Schülerin in Verneuil sur Havre (Haute-Normandie)
Emeline Roger (17 Jahre) Schülerin in Verneuil sur Havre (Haute-Normandie)
Eske Hilbrands (17 Jahre) Schülerin in Leer (Niedersachsen)
Marie Johanna Trautmann (20 Jahre) Studentin in Braunschweig (Niedersachsen)
Philine Behrens (18 Jahre) Schülerin in Buxtehude (Niedersachsen)
[Translate to Englisch:] 2012: CATIMINI
[Translate to Englisch:] Kanada 2012, 111 Min., OmeU
Regie & Buch: Nathalie Saint-Pierre
Darsteller: Frédérique Paré, Émilie Bierre, Joyce Tamara-Hall, Rosine Chouinard-Chauveau
Produktion: Extérieur Nuit
Verleih: Axia Films
Die Begründung der Jury
Einer Evolution gleich, zeigt uns die Regisseurin Nathalie Saint-Pierre in der Addition der berührenden Mädchenschicksale intensiv und schonungslos, wie man in einer Welt ohne Liebe und Geborgenheit schutzlos ausgeliefert ist – vom Neugeborenen bis zur jungen Frau. Thematisiert wird das Leben junger Mädchen in Pflegefamilien in Québec, die im Laufe ihres Lebens immer wieder abgewiesen werden, bevor sie als junge Erwachsene in einer kalten, abweisenden Welt ausgesetzt werden. Eine hervorragende Kamera, ein zwingender Stil mit herausragenden Kindern und Jugendlichen als Schauspieler runden diesen schönen und gleichsam harten Film ab.
Jurymitglieder
Mado Berrenger (16 Jahre) Schülerin in Rouen (Haute-Normandie)
Timo Neumann (17 Jahre) Schüler in Rastede (Niedersachsen)
Noémie Jobard (17 Jahre) Schülerin in Rouen (Haute-Normandie)
Rosalie Schuster (18 Jahre) Schülerin in Hannover(Niedersachsen)
Anna-Lena Schulte (17 Jahre) Schülerin in Braunschweig (Niedersachsen)