Who's Who
The Film Festival Association
Together with the film festival team, the association organises the largest public festival in northern Germany every year. Up to forty members of the association volunteer year-round to promote film culture in Braunschweig. This is unique in Germany. Catalogue texts with their own handwriting, personal guest services and individual introductions to film screenings give the festival its unique position in the European festival landscape. As members of the association, we have been committed to the festival for many years and have matured with it. In order to be able to continue to represent the Braunschweig audience in its entirety in the association, we look forward to motivated new blood.
Karina Gauerhof - Head of Programme Management
Born in 1991 in the idyllic Zabergäu (Baden-Württemberg), Karina Gauerhof moved to Braunschweig in 2011. During her studies in media studies at the Braunschweig University of Art, she dedicated herself to, among other things, the programme organisation of the university cinema "Studio für Filmkunst e.V." From 2014 on, she held a leading position on the board of "Sommerkino Braunschweig e.V.". Also in 2014 she started an internship at the Braunschweig International Film Festival. In 2015 and 2016 she was responsible for the guest management of the festival. From February 2017 to April 2019, she worked as a junior curator and assistant to the festival director. Since May 2019, Karina Gauerhof now is in charge of programme coordination.
Email: gauerhof@filmfest-braunschweig.de
tel: +49 (0)531 702 202 - 11
Anke Hagenbüchner - Head of Festival Organization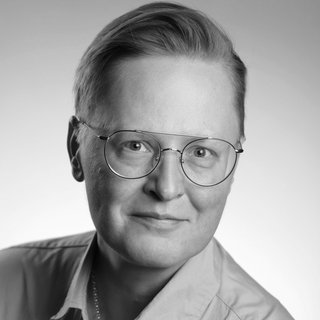 Grown up in Nordhausen/Thüringen and moved to Ilmenau to study computer science. But after a few internships, she realised that her heart belonged to the cinema. So she changed career paths and worked in various multiplex cinemas (Nordhausen, Garbsen) before landing at UNIVERSUM-Filmtheater as a theatre manager in Braunschweig in 2012. Next she moved to Brausnchweig International Film Festival in August 2021, where she now is the head of festival organisation.
Email: hagenbuechner@filmfest-braunschweig.de
tel: +49 (0)531 702 202 - 20
Daniela Heinicke - Team assistant
Born in 1983 in South Brandenburg, she moved to Braunschweig after graduating from high school to study sociology and media studies. Already during her studies, she worked at the UNIVERSUM film theatre. She continued to work at the UNIVERSUM after graduating with a master's degree, managed the ABSPANN cinema bistro at the film theatre and worked as a freelancer for various educational institutions. She joined the Filmfest Association in 2016 and has been active in HEIMSPIEL and SOUND ON SCREEN ever since. Since May 2021, she has been a team assistant in the orga team.
Email: heinicke@filmfest-braunschweig.de
tel: +49 (0)531 702 202 - 21
Louise Lindlar - Programme Management Assistant
Studied cultural studies in Lüneburg and Hildesheim with a one-year excursion to the HBK Braunschweig. Master's thesis on the image of German film at festivals and in journalism. In 2021 part of the festival team as an assistant in programme management.
Email: lindlar@filmfest-braunschweig.de
tel: +49 (0)531 702 202 - 12
Moritz Petri - Finances & Sponsorship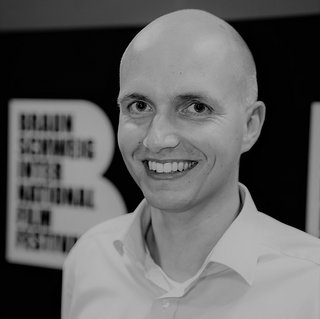 Originally from beautiful Lippe, Moritz obtained a bachelor's degree in political science in Berlin and Bergen/Norway. He then volunteered at film festivals in Wellington and Mainz, among others, for the latter as finance director. During this time, he also studied theatre, film and media studies in Frankfurt am Main, worked on various small film shoots as a production boy-for-everything and in marketing at ZDF Enterprises. He joined the Braunschweig International Film Festival in 2021 as guest manager and continues as finance and sponsorship manager.
Email: petri@filmfest-braunschweig.de
tel: +49 (0)531 702 202 - 30
Angelika Hoffmann - Assistance Finance and Accounting
Deniz K. Soğukpınar - Technical Staff
After graduating from the Ludwig-Erhard-Schule in Salzgitter in 2019, he supported the Städtische Musikschule Braunschweig in technical and creative matters during his FSJ Kultur. After that, he moved to Göttingen for a year. Since 2021, he has been working and living in Braunschweig. Having already worked as a projectionist at the 35th BIFF, he is supporting the festival team as Technical Coordinator since April 2022.
Email: sogukpinar@filmfest-braunschweig.de
tel. +49 (0)531 702 202 - 40
Charlotte Hall - Voluntary Social Year Culture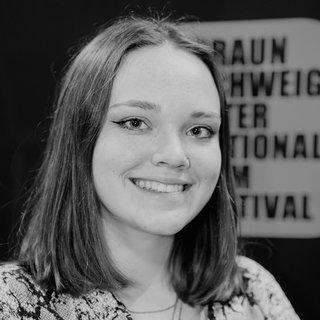 Born in Gifhorn in 2003. In 2021 Charlotte successfully completed her entrance qualification for a technical college in the field of design at the Johannes Selenka School in Braunschweig. From summer 2021 to 2022 Charlotte will be doing her Voluntary Social Year in Culture at Braunschweig International Film Festival.
Email: fsj@filmfest-braunschweig.de
tel: +49 (0)531 702 202 - 41
Board of Directors International Filmfest Braunschweig e.V.: Thorsten Rinke (Chairman), Florence Houdin (Chairwoman), Clemens Williges (Secretary), Bianca Apmann (Treasurer), Frank Beyer (Associate), Andreas Richter (Associate)
Head of Programme Management: Karina Gauerhof
Head of Festival Organisation: Anke Hagenbüchner
Team Assistant: Daniela Heinicke
Assistant of Programme Management: Louise Lindlar
Finances: Anja Hinderer, Angelika Hoffmann (Collaboration)
Sponsorship: Thorsten Rinke, Anke Hagenbüchner, Daniela Heinicke, Edgar Merkel, Dr. Ralf Untermöhlen
Head of Press and Public Relations: Falk-Martin Drescher, Call The Dude GmbH
Assistant Press and Public Relations: Clara Hense
Internship Programme: Alina Czymoch
Internship Festival Organisation: Julia Adolf
Guest Management: Moritz Petri
Project Coordination Online Platform: Chris Bierfreund
Support Sponsoring Association: Anja Hinderer

Ticketing: Anke Hagenbüchner, Daniela Heinicke
Voluntary Social Year Culture: Charlotte Hall
Film Mediation: Kristina Schippling, Johannes Wilts (School Cinema Project "Kinema")
Translations: Kaledonia Kommunikation
CI: Justus Oehler, Pentagram
Technology: 24Frame Kinoprojektion GmbH & Co. KG, Merten Houfek & Thorkil Asmussen (Cinema), Harrington Media Art & Design GmbH, Howard Harrington (Online)
Subtitles: JT Subtitling, Jürgen Tobisch
IT-Support: Volker Kuz, Beate Neigenfind, Andreas Richter
Festival Journal: Clara Hense, Nicole Richter, Call the Dude Gmbh, Clemens Williges
Texts: All texts in the film series were written by members of the association and participants in the viewing groups.

Editing: Clemens Williges, Clara Hense
"DIE EUROPA" - The European Actors Award: Karina Gauerhof, Florence Houdin, Thorsten Rinke, Frank Beyer, Evelyn Drewes
Contest »DER HEINRICH«: Beate Siegmann, Beate Neigenfind, Michael Werner, Marie Dann, Florence Houdin, Thorsten Rinke, Claudia Grossek, Bianca Apmann, Sigrid Weitemeyer, Stephan Chamier, Frank Beyer
New International Cinema: Frank Beyer, Andreas Richter, Heinz Wilke, Beate Siegmann, Evelyn Drewes, Kirsten Schult, Marit Vahjen, Florence Houdin, Harmen Hendriksma, Sabine Auschra, Daniela Baier, Martin Brandes, Franklyn Cardenas, Sigrid Weitemeyer

New German Films: Thorsten Rinke, Katja Heimanns, Dagmar Schumacher, Evelyn Drewes, Marit Vahjen, Tom Blume, Jana Krug, Alexandra Heuser, Faro Lienert, Edgar Merkel
Regional Film Award (Heimspiel): Daniela Heinicke, Bianca Apmann, Katja Heimanns, Thorsten Rinke, Edgar Merkel

German-French Youth Award »KINEMA«: Florence Houdin, Johannes Wilts (Kinema e.V.)
Film Concerts: Martin Weller (Staatsorchester Braunschweig), Thorsten Rinke, Clemens Williges
International Dokumentary Films: Marit Vahjen, Sigrid Weitemeyer, Frank Beyer
Sound on Screen: Beate Siegmann, Daniela Heinicke, Rayk Fenske, Volker Kuz, Philipp Preuß, Clemens Williges

Green Horizons (Sustainability Award): Marc-Aurel Jensen, Dr. Stefan Vockrodt
At Midnight: Clemens Williges
Children and Youth Films: Karina Gauerhof

Short Film Programme: Daniela Baier, Magrit Lang, Martina Meiritz, Karl Gehrke, Stephan Chamier, Peter Wentzler, Andreas Joecks, Silja Cruz Hahne